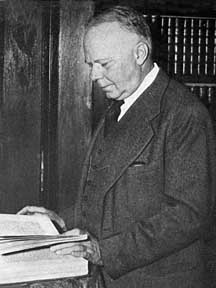 SAMUEL SHELLABARGER was born May 18, 1888 in Washington D.C. His parents died while Samuel was an infant, so he was brought up by his Grandfather, who was a well-known lawyer and member of Congress during the Civil War. His Grandfather was also Minister to Portugal, which no doubt gave an early impetus to Shellabarger's later international travel, not to mention his extensive linguistic skills. Shellabarger himself said, "My grandfather was born in 1817 and my grandmother in 1828, so that, during my boyhood, I was especially under the influence of that generation with its traditional standards and with its memories which extended to the early days of the Republic. I consider this influence paramount in my life."

At the age of twelve Shellabarger attended a Sardou play, staring Sir Henry Irving. Struck by the romantic play, the lad decided then and there to become a writer. Then, in 1903, when Samuel was 15, he "first toured Europe; and the impressions of London, Paris, and Rome at the turn of the century became indelible in my mind and have left a nostalgia for the past which has colored my historical writing."

There in a nutshell is the genesis of the writer. Shellabarger attended private schools. He attended Princeton, graduating with a B.A. in 1909. After a year of study at Munich University, he returned to Harvard where he received his PhD in 1917. Shellabarger was also an instructor at Princeton from 1914 until 1917. He took a year off from his academic studies to serve during World War I, eventually ending in the Intelligence Corp. (It would be an interesting study to look at all the writers who have been in Intelligence in military duty, and study the relationship between their writing and military careers. At least two ot he writers quickly come to mind: Rafael Sabatini in World War I and Ian Fleming in Naval Intelligence in the Second World War.)

On one of his many trips aboard, during a summer trip to Sweden in 1914, Shellabarger met Vivan Georgia Lovegrove Borg. They were married on June 14, 1915. The Shellabargers had four children, two boys and two girls. One the boys died during infancy. The second boy was killed during World War II. The two daughters married and presented Shellabarger with at least five grandchilden. (So for anyone looking to do PhD work on Shellabarger--there are family members out there.)

When the First World War ended, Shellabarger returned to Princeton as an assistance professor of English. However, after four years, he left so he could devote more time to writing.In 1922 the Shellabarger family moved to Lausanne, Switzerland, where they remained for five years. Another two years were spent in England and France. During this time, Shellabarger began to publish. However, it would be a couple of decades before he actually turned to the historical fiction for which he is today rightly noted. Shellabarger, to avoid confusion with his more scholarly work, wrote mysteries and light romances under a couple of pen names. The Door of Death, a mystery appearing in 1928, was written under the name of John Esteven. He also used the name Peter Loring. In 1929 he wrote The Black Gale. Returning to the United States, Shellabarger published the scholarly biography The Chevalier Bayard in 1928. Shellabarger often went back and forth between Europe and the United States. He taught again, at Princeton for another couple of years, before he returned to Europe again. Shellabarger, by the way, was a fluent linguist. He spoke and wrote French, German, Swedish, Italian, Dutch, and Spanish. He was also knowledgeable in Greek and Latin. At any rate, he was back in America in 1931, where he devoted himself to just writing for several years. In 1935 his biography of Lord Chesterfield was published. The 30s also saw him publishing many mysteries. Voodoo came out in 1930, By Night at Dinsmore in 1935, While Murder Waits from 1937, Graveyard Watch, 1938, and Assurance Double Sure, 1939. All of these books were published under his pseudonym John Esteven. As Peter Loring, Shellabarger wrote Grief Before Night. It was published in 1938. Miss Rolling Stone was published in 1939.

Shellabarger also did much magazine fiction (another good topic for academia). Among other magazines, he wrote for McCall's and for Cosmopolitan. In 1938, Shellabarger made an unusual career move. He became the headmaster of the Columbus School for Girl in Ohio. Although he had never done anything like that before, interestingly, he seems to have found it very congenial. He says he found it of "a much keener appeal and a much more varied scope than university work provided." Also, he wrote, "I have always been interested in education and I consider the eight years I spent there as among the most creative and valuable of my life."

Apparently, his duties were light enough that he had plenty of time for writing. Now, however, Shellabarger turned to a new field--historical fiction. By this time he was in his 50s. What a happy choice it was. In the last decade of his life, from 1945 until his death in 1954, he wrote four historical romances. He earned more than $1.5 million from those works. Twentieth Century Fox purchased the screen rights for Captain of Castilealone for $100,000. The first of his four historical romances was Captain of Castile. It topped the best seller lists for weeks in 1945. The book was in its 12th printing by March 1945. The novel follows the adventures of a handsome young Spanish Conquistador, Vargas, as he accompanies Cortez and his men into the Mexico of the Aztecs. Sweeping and colorful, nonetheless the book is meticulously researched and historical accurate. Like Rafael Sabatini, Shellabarger believed that the best research for the historical writer was not to read histories, but to read works actually written during the time one wishes to write. Shellabarger later said he regretted living aboard since it had colored his historical image of places, which also echoes Sabatini's sentiment. Prince of Foxes, dealing with Renaissance Italy was published in 1947. The King's Cavalier appeared in 1950. It is set in Renaissance France. Lord Vanity, his last novel, was published in 1953.

Alas, just as he was hitting his stride, Shellabarger suffered a heart attack and died on March 21, 1954, at his home in Princeton, New Jersey. Shellabarger has often been compared to Dumas in his swift narrative style, his vivid depiction of the pomp and pageantry of by-gone eras. However, Shellabarger's meticulous research and fully developed characters may in fact make him a likely candidate for increased valuation and scrutiny by the literary/academic community in future years. He continues to be beloved by enthusiasts of historical fiction.

By Jesse F. Knight (c) Copyright 1996.